Festivals of India
are the great essence of the
Indian
cultural heritage
. Most
religious festivals
have elaborate prayers, traditions, customs and rituals attached to them. The colorful festivals are an integral part of every Indians.
Karva Chauth
is the most important festival for Indian woman.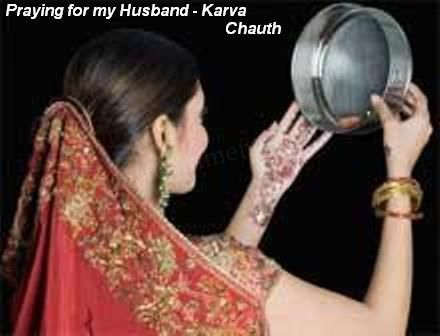 The festival is celebrated nine days before
Diwali
around October-November.
Married
women, old and young, begin their fast on the day of Karva Chauth well before sunrise around 4 a.m. and fast for the whole day and pray for the long lives oftheir husbands.
On this ocassion women wear bright and beautiful clothes, don't scrimmage on their jewellery, pamper themselves by buying bangles and apply henna on their palms and feet. The puja ends with the women showering rice and vermilion on Parvati and seeking her blessings for the well being of the husband and for marital bliss.