Srikalahasthi
is a small holy town which is also known as the Dakshin Kasi of India is situated in the state of Andhra Pradesh that is a tributary of pennar river. It is believed that Lord Shiva hailed in 12 different forms and the one here is called the Vayu Lingam which means hailing in the form of Air. The linga is in white color and is considered as Swayambhu.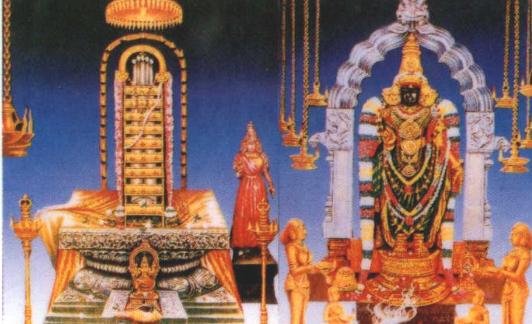 The name of the Srikalahasthi comes from SRI - Spider , KALA- Snake and HASTHI which means Elephant. The whole beauty of animals worshiping can be seen on the shrine.
It is believed these three animals worshipped lord shiva and attained salvation. The main entrance to the temple is crowned with a smaller tower. The amazing architecture of this temple represents the Chola, Pallava, Pandya and
Krishnadevaraya
style of architecture.
Goddess
Bramarambhika Devi
who is said to bestow divya gyan to the devotees is the goddess of welfare and education. The Goddess Brahmarambhika holds a lotus flower in her hand which can be seen no where in india. This flower is considered as the symbol of Wisdom.
Srikalahasthi is also surrounded with number of places of interest:
Sri Kanaka Durga
Temple which is situated on the hillock of the north of the temple.
Sri Subramanyaeshwara Swamy Temple is found on the hillock along the east side of the Srikalahasthi temple.
Sri Baktha Kannapa Temple is situated on the hillock along the south side of the mail temple.
Situated adjacent to the main temple is the Pancha Mukeshwara Temple.
Timings for darshan to this temple are every day morning 6.00 to night 8.00.